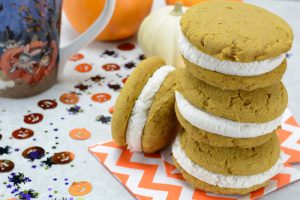 We can't get enough of fall. From the colors to the holidays, weather, football and the food, it's all so magical. And 'tis the season of pumpkins!
Last week we discovered that pumpkin whoopie pies were a favorite at Camp Blue Spruce and we promised to share this fun-to-eat dessert, which is guaranteed to be the center of attention at any Halloween party.
We just adore the happiness in the name itself. No doubt these sweet treats are the ultimate comfort dessert. They're soft and squishy, cakey and creamy, and absolutely a reason for celebration.
Therefore, with Halloween right around the corner, it's time for a whoopie party!
…