Super moist thanks to the combination of applesauce, shredded carrots and zucchini, this loaf is perfectly sweet and full of flavor.
Enjoy our carrot zucchini bread plain, glazed, or even with chocolate chips. It's great for breakfast or dessert.
Going beyond banana bread…
We made several batches of this bread before finalizing the recipe. One batch included mashed ripe bananas, which was good. However, it wasn't a game changer for this loaf…and waiting for that banana to be the perfect ripeness takes time.
So for the last and final batch, our banana was not ripe enough, so we skipped it.
We've added golden raisins to the batter. But here's where you can add what you like.
If nuts are not an issue, feel free to add 1/2 cup chopped walnuts. How about chocolate chips, such as Enjoy Life Mini Chips? Now we're talking!
Other options are shredded coconut and dried fruits.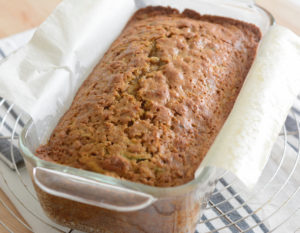 We greased and lined our loaf pan with a strip of parchment paper. The parchment paper can be omitted, but this makes removing the loaf a breeze.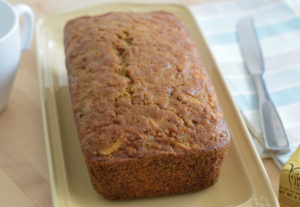 To glaze or not to glaze?
This is totally up to you. We love glazing!
We also love plain. And plain does mean less sugar.
So if you're in a hurry to enjoy this bread, skip the glazing and dig right in.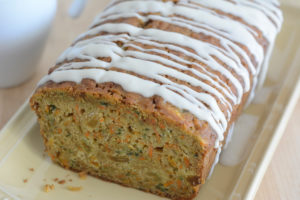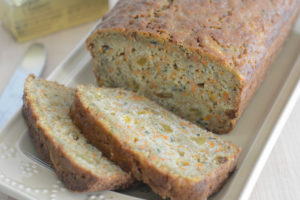 Print
Carrot Zucchini Bread
Yield 1 Loaf
Free of: gluten and top 8 allergens.
This loaf is perfectly sweet and full of flavor!
Ingredients
Bread
2 flax eggs (2 tbsp flaxseed meal + 6 tbsp water) (see recipe notes)
1 tsp baking powder
1/2 tsp baking soda
1 3/4 cups all-purpose gluten-free flour blend
1 tsp ground cinnamon
1/2 tsp salt
1/4 tsp ground nutmeg
1/2 cup unsweetened applesauce
1/2 cup organic cane sugar
1/4 cup light brown sugar
1/4 cup olive oil, or other vegetable oil
1 cup grated or shredded carrots
1 cup grated or shredded zucchini, firmly packed and squeezed of excess liquid
1/2 cup golden raisins
Glaze (optional)
2 cups confectioners sugar (approximately 8 ounces)
1 tbsp fresh lemon juice
1 tbsp fresh lime juice
1 tbsp fresh orange juice
Instructions
For the bread, preheat oven to 350-degrees F and grease a 9-inch x 5-inch loaf pan. Line with parchment paper, leaving an overhang on two sides. Set aside.
In a small bowl, whisk together flaxseed meal and water. Set aside for 5 minutes.
In a medium bowl, sift the baking powder and baking soda into the flour. Add cinnamon, salt, and nutmeg. Whisk to combine. Set aside.
Return to flaxseed mixture and vigorously whisk; it will be gelatinous.
In a medium bowl using a hand held mixer on low speed, beat together applesauce, sugars, and oil until smooth, about 1 minute. Pour in flaxseed mixture and blend to combine.
Add dry ingredients and beat on low just until combined.
Fold carrots, zucchini, and raisins into the batter and gently mix until evenly incorporated.
Pour batter into prepared loaf pan. Bake for 50-60 minutes, or until toothpick inserted in center comes out clean. Remove from oven and cool in pan for 15 minutes. Carefully invert bread onto rack, turn right-side up and continue to cool. Enjoy warm, cool, or glazed.
For the glaze, when the loaf has completely cooled, sift the powdered sugar into a small bowl. Whisk in lemon, lime, and orange juices until smooth.
Test the consistency by lifting the whisk from the bowl and drizzling the glaze back into the bowl; the drizzled glaze should be thick and leave a trail. If too thin, whisk in additional powdered sugar as needed.
Set the carrot zucchini loaf on a wire rack over a large piece of parchment paper or foil. Pour the glaze in a steady stream down the center of the cooled loaf, allowing it to run over and down the sides. Use a palette knife to push the glaze over the sides, if needed.
Allow the glaze to set before cutting, about 2 hours.
Notes
If egg allergy is not an issue, substitute 2 pasture-raised organic eggs for the flax eggs.
Courses Breakfast & Brunch